The Deluxe Cutlass is a stronger version of the Cutlass, dealing more damage and has a second ability alongside the basic click attack.
It deals more damage than the Deluxe Katana, but it swings slower. This weapon has a chance to inflict the Bleed status with both attacks.
Abilities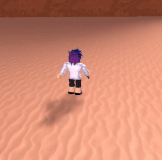 Left Click:
 Basic swing combo.
[Q] (Flying Slash): Launches a wide spiral at a targeted location, dealing area of effect damage that damages 1-3 times on the point of impact.
Tips
Flying Slash synergizes well with the super jump. Using it in midair decreases the chance of hitting the ground before the attack reaches the target.
Trivia
The Deluxe Cutlass adds 650 power level.