Overview
Experience points, the yellow status bar, are an essential part of Arcane Adventure as it is needed to level up, which as you level up you will gain benefits such as an increase in stats, learning your ultimate, unlocking your second magic and the ability to equip stronger equipment.
There are many different ways to gain experience points; some sources of experience are defeating NPCs, using attacks, finishing quests and the daily spinning wheel.
Although experience points are already easy to gain in this game, according to the creator (vetexgames), the tips below will help speed up the process.
However, any excess experience gained when getting a level will be lost regardless of the amount.
Methods
Bosses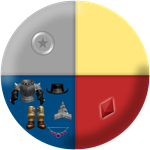 Every 12 hours, the wheel can be spun to possibly land on the experience reward quadrant, giving you 1000 experience multiplied by the days played consecutively, 10000 experience can be rewarded at most, if spun 10 days in a row. 
Moves